El Pueblito Mexican Grill #2
1805 Howard St, Evanston, IL 60202
Order now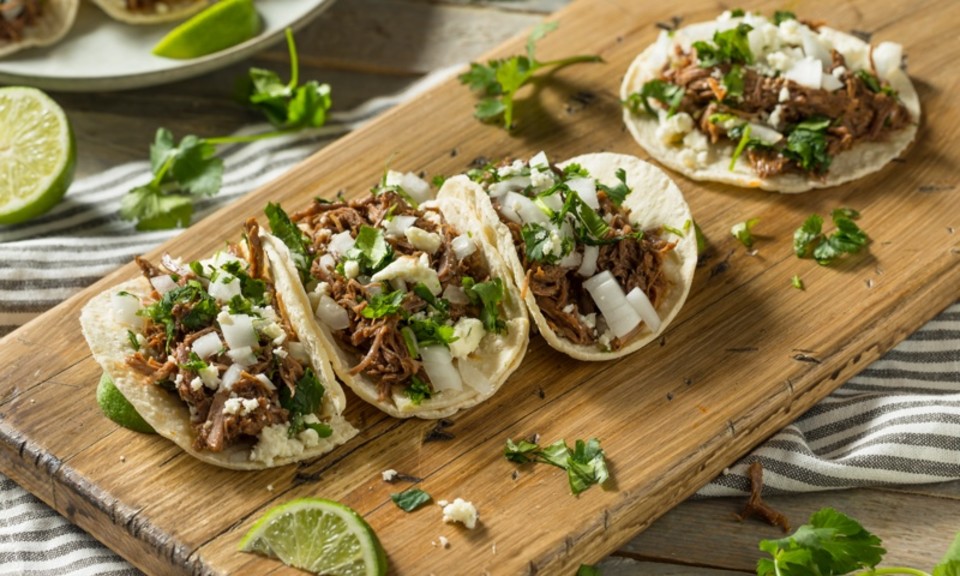 Daniel
My buddy and I have been La Choza fans for as long as I've lived in the neighborhood (3-ish years running), but we decided to give Pueblito a shot for three main reasons. 1) Glowing reviews by a ton of people. 2) price points on the stuff we most commonly ordered as about a dollar cheaper for most (but not all) items. 3) Cebolitas. We were not dissapointed. My Chile relleno taco was absurdly good, as was the pastor torta; left whole so I could cut it myself which I did not mind at all; as it made it easier to dress with salsa first and then break down. My buddy was quite happy with his steak taco dinner and quesadilla, and the horchatas were massive, and ice cold despite a modest amount of ice. The total after tax, delivery fee, and $7 tip for everything was a cool 40 bucks flat. (Personally I thought that was a bit much, but it's not my address it went to, and my buddy likes maintaining an impeccable relationship with delivery people.) Overall, a solid Mexican place in town, easily in my top 3.
stephanie
I'm still eating, but I'm so impressed I wanted to review immediately. I just moved from the city to the burbs and needed to find a new Mexican spot. I also needed to cure a raging hangover. I had a lot of special notes on my order and all of them were followed exactly right AND delivered in 30 minutes. I wish they would label which color salsa is spicy though, and while the delivery was very fast, the driver called me from outside the building instead of just coming inside and knocking. I will definitely be ordering from here again and again.
Alvin
Delivery got here in about 15 mins!! I ordered the taco dinner and tres leches cake. As soon as I took a look at the food I knew this was going to be a good night! Food taste and looks fantastic.

I will be ordering from them again. Delivery driver was super nice and appreciative of my tip. They included napkins, fork and even added green and red sauce on the side without me even asking! Amazing! I give this place 5 stars!
Ummekalsoom
I always order from here when I'm craving Mexican food. The service is great and the food is delicious. I always get the chicken tamales and the enchiladas with the mole sauce. I've had their tacos and burritos as well and they are yummy. When you order in, they give you complimentary chips and salsa. A good place to order from especially when it's late at night everything around is closed. Will keep ordering from here.
Michelle
I have taken too long to write this review considering I have ordered from El Pueblito 4 times this past week.

Their carne asada is some of the best Ive had in Chicago and I am so glad I found a local taco spot that is absolutely delicious. Juicy, seasoned perfectly and mouth watering. The tacos, sopes, quesadillas...you name it - AMAZING.

Order from here and you will not be disappointed!
Kirsten
Delicious tacos. Pollo soup was warm and filling. Full of vegetables and chicken. Yum! All arrived steaming hot.
Andrew
Generous portions, good food, always prompt delivery.
Dima
Quick, affordable, hot & delicious!
Maryann
Excellent Mexican food
Tiffany
Great authentic food!
About us
Dinner, Lunch Specials, Mexican
Today

Delivery: 10:00 AM - 11:00 PM

Takeout: 10:00 AM - 11:00 PM

Delivery

Monday:

10:00 AM - 11:00 PM

Tuesday:

10:00 AM - 11:00 PM

Wednesday:

10:00 AM - 11:00 PM

Thursday:

10:00 AM - 11:00 PM

Friday:

10:00 AM - 11:00 PM

Saturday:

10:00 AM - 11:00 PM

Sunday:

11:00 AM - 11:00 PM

Takeout

Monday:

10:00 AM - 11:00 PM

Tuesday:

10:00 AM - 11:00 PM

Wednesday:

10:00 AM - 11:00 PM

Thursday:

10:00 AM - 11:00 PM

Friday:

10:00 AM - 11:00 PM

Saturday:

10:00 AM - 11:00 PM

Sunday:

11:00 AM - 11:00 PM